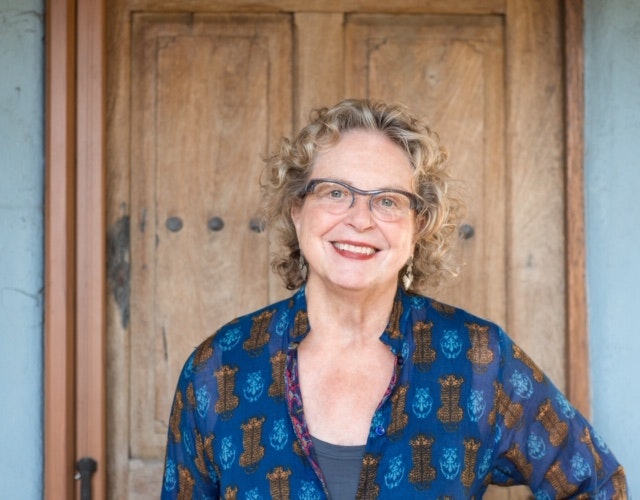 Something There That Doesn't Love a Wall
The irony of being "locked down" over the past year is that I became unanchored. My mind wandered to memories of Nature and open spaces. It started with my hearing over and over in my head the lines of a favorite Robert Frost poem. I'll never forget his bowed white head as he read to my ninth-grade class. "something there is that doesn't love a wall", and the poem's contradictory last line, "good fences make good neighbors."
His line, "something there is that doesn't love a wall", spoke to my unanchored state, stimulating images and hitherto forgotten landscapes began and continue flowing into my mind…Memories build on one another, like the clouds they come and go, floating out of the shadows into the light, moving in close, briefly, before fading away. I find myself in landscapes where nature belongs to no one, what's manmade is dwarfed by the vast grandeur and expansiveness of land, shoreline, sea, and sky. Fences, barbed wire and walls only provide the illusion of property of ownership.
For me the challenge is to create on the flat surface of a sheet of paper the illusion of space which stretches far into the distance and stimulates the observer to travel wherever their memories take them. With soft pastels I can draw and paint at the same time, in one stroke I can make a mass of color move into a fine line. I use my hands to mix the powdered pigment on the paper, using my fingers I layer color over color so that the pigments bleed through and into one another creating the transparent and reflective aspect of water and of clouds as they move across the landscape.
---
EXODUS
"From Terror to the Unknown"
I see them on the horizon carrying their history in a bundle, across land and on the sea, searching for a place they belong. They seem to be in the middle of not reaching anywhere, not here, not there, but somewhere in between. The EXODUS Paintings mirror my experience with patients as a psychoanalyst. The flight from terror, the fear of the unknown, of rejection, of not being found, and the search for love hover on the edges of our discourse. In these paintings the plight of the refugee is transparent as a metaphor for all who no longer feel anchored whether they are at home, or on a journey to places far away.
The landscape in these paintings shares transparency with the refugee. "Transparentia," the original Medieval Latin root of the word, transparent, is defined as "shining through." The uniqueness of pastels is their ability to allow layers of multiple colors to shine through each other, creating shadows and reflections. Pastels are a perfect medium to show the transient beauty of nature even in the darkest of times.
As humans we destroy not only each other, but also our earth. Yet nature is resilient, just as the will to survive keeps the refugee traveling in spite of persecution and extraordinary loses. I chose pastels because they are color in its purest form. Earthlike to the touch, I mix and apply with my hands these vividly colored powdered pigments, drawing and painting at once.
At no time more than the present has the transient nature of humanity and the earth become more evident.
---

HISTORY


As a young child color was like food for me, bowls of fruits, bolts of fabric, bouquets of flowers nurtured me more than my lunch box. I drew faces on my worksheets and while friends had lemonade stands, I sold my hand painted clamshells. My training as an artist began at age 17 when I spent 5 years in studio and academic classes, receiving a combined BFA in SCULPTURE and PAINTING from the UNIVERSITY of CHICAGO and the ART INSTITUTE of CHICAGO. Shortly after, I earned an MFA from the University of Chicago and proceeded to teach art history in their extension program and sculpture at the University's Midway studios.
I began my professional career as a sculptor molding and welding steel, which led to carving wood, exploring the contrast of organic forms with stainless steel, creating monumental pieces using railroad ties and 10-foot welded steel bars. Exhibitions followed in Chicago at the ZOLA LIEBERMAN gallery, MIDWAY STUDIO Gallery and an INTERNATIONAL EXHIBITION in Vermont. I was awarded a sculptor's studio at the prestigious CITÉ INTERNATIONAL DES ARTS in Paris. Moving my family to Paris was a seminal event in my life and the focus of my work shifted.
I proceeded to carve anthropomorphic forms from aged oak beams, which I combined with cool reflecting stainless steel rods. My works sold to private collections and were featured in "Leonardo", the International Journal of Contemporary Visual Artists. I also co-created a PERFORMANCE ART PIECE with a young French choreographer and dancer who interpreted 5 of my Sculptures to the music of Phillip Glass. Toward the end of the 3 years in Paris I was carving heads with birds on top and began a Series of Seven, 6 to 9-foot TREE WOMEN, that I carved with chisels and circular sanders. To further create shadow and negative space, I burned the wood with an oxyacetylene torch, defining hair, breast, and thigh, blending female and tree. Four of these pieces are in private collections in Chicago and California.
After returning to Chicago, I spent 15 years studying and working with patients to become a psychoanalyst. The focus of my work as an artist shifted from carving to two-dimensional works on paper with inks, charcoal and pastel. With dancers as my models for whom movement and gesture come naturally, I began developing my technique, finding joy in the immediacy of pastels which allowed me to capture the movement of the body and the intensity of light and shadow quickly, relative to the slow process of carving. I worked from my imagination on the human couple: caught, merging, falling into and away from each other, letting go, escaping, separating. This work evolved into the FLIGHT series.
Two Art Movements of the last Century, Cubism and Abstract Expressionism focused on flattening the image on paper or canvas. The illusion of space grew narrower and narrower creating tension for the viewer. Flattening of the image continues as the focus for many artists today. In my work I want the opposite of flattening the image and narrowing of the space. Since my move to California in 2010 working in my Santa Monica studio, I want to create the illusion of wide spaces, desert, riverbank, ocean, distant horizons. This work became: EXODUS, SEASCAPE, and FENCES.